Frequently Asked Questions!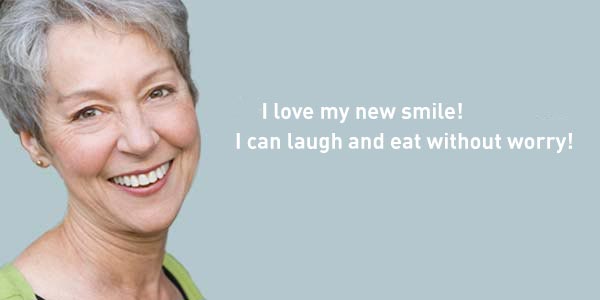 What are Dental Implants?
Dental Implants are titanium "screw shaped posts" that are surgically placed in the jawbone under your gums. During a healing period, the bone grows around the implant (osseointegration). After the healing phase, a replacement tooth (crown) is attached to the implant, providing you with a restoration that is a like your natural tooth. Implants can also be used to construct bridges and secure dentures when more than one tooth is missing.
What are the advantages of Dental Implants?
Because the implants fuse to the jawbone and offer a secure base for the replacement teeth, some patients find this a comfortable option in restoring their smile. In many cases, implant-retained teeth look and feel more like natural teeth.
Can anyone have Dental Implants?
Healthy gums and jawbone are essential to support dental implants. Implants, like teeth, are susceptible to disease. Implants are therefore cleaned and taken care of in much the same way as natural teeth. Patients who want to have implants are encouraged to commit to a meticulous oral hygiene routine, including flossing, brushing and regular dental visits to help protect the supporting tissues from any disease.
As dental implant placement is a surgical procedure, it is preferable that patients have good overall general health. Even patients who have lost significant bone volume of the jaws can have dental implants, by using bone grafting, which can be a routine surgical procedure, but does increase the treatment time period.
Is the treatment painful?
Local anaesthetic is used during the procedure so no pain should be felt. The slight discomfort felt after surgery is mainly due to swelling. Most of our patients are often surprised at how little discomfort they experience during and after implant procedures.
What costs are involved in implant treatment?
The cost may vary, depending on the degree and extent of treatment needed. All stages of the treatment and the full cost is explained accordingly and subsequently confirmed in a written treatment plan. Which is explained here. If you are interested in Dental Implants you may contact us and request an Implant Consultation.
How long will implants last?
Once treatment is completed, a routine of careful dental hygiene and regular check-ups will assure that the implants last for many years. Implant treatment is probably the most successful dental treatment option today.
Contact Details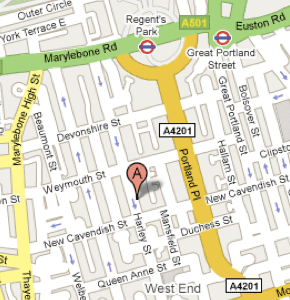 Click map to open google maps link.
72 Harley Street
London, W1G 7HG
United Kingdom
Tel: 020 7637 1222
Fax: 020 7323 4794
---