Referrals
As a dentist you may refer patients for further treatment at Manhem Implant Centre. We are available to accept referrals for all treatments that are mentioned in our services section. A referral may be submitted electronically via the form below or by post, using our referral form. We can send you a set of referral forms or you may download and print it yourself here.
Several of the fields in this form are markred with a red * these are a requirement for the form to be sent to us, however please fill in as many of the fields as possible.
Please send us any additional material that may help the evaluation of your patient, such as Study Models and Radiographs. Digital Radiographs may be sent by email to info at manhem.co.uk. All non digital material should be sent to 72 Harley Street, London W1G 7HG.
Contact Details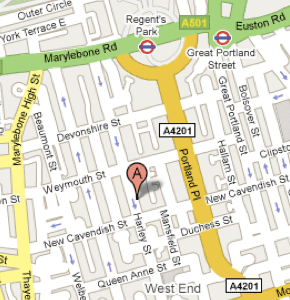 Click map to open google maps link.
72 Harley Street
London, W1G 7HG
United Kingdom
Tel: 020 7637 1222
Fax: 020 7323 4794
---